TipTop Training & Rehab, P.C., celebrating its 25th year, trains aspiring athletes in virtually every sport in focusing on improving speed, agility, core strength and techniques aimed at preventing injuries. This is accomplished through group and/or individual training sessions conducted by TipTop's qualified trainers.
The performance training curriculum places a high priority on running and footwork movement, coordination, balance and relative strength with special emphasis on core body development. These are vital areas of training for any competitive athlete that are often overlooked by coaches or personal trainers.  Athletes continue to train with TipTop because they seek to improve their overall performance in order to emerge as a more competitive athlete in today's highly competitive sports environment.  Younger athletes are introduced to new techniques and as they progress, those skills are refined and ingrained so that fundamental skills of speed, agility and power remain a top priority.  Athletes are given individual attention and evaluated to optimize the training based on his or her strengths and weaknesses.
Whether you are a athlete looking to become more competitive in your an organized or are an adult looking to get in shape in a fun and effective program through our New Your Adult Boot Camp, you will be pleased with the results that are achieved at TipTop!
Tip Top's successes include competitive athletes whom have competed in virtually every sport with impressive accomplishments including:
30 NCAA Division 1 athletes
50 NCAA Division 3 athletes
2 players ranked Number one nationally
4 Sportsmanship award winners
5 NCAA Division 1 Ivy League athletes
8 USTA National Titles
10 Professional Touring athletes
MINDEE EPSTEIN, R.K.T.
Founder and Director of Training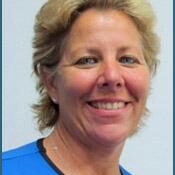 Mindee Epstein is an expert sports trainer with more than 25 years of experience. She has focused on developing amateur and world champion athletes. Also, she is recognized as an expert in bringing "functional training" to the sports and fitness industry.
Mindee is a speed, agility, and quickness specialist, a licensed massage therapist, a performance trainer, and a body-worker. She has written many articles on performance enhancement, body alignment, developing weak links in the body, and more.
She has always been interested in how the body works with different movements and exercises, so she attended Ohio State University to get a degree in Kinesiology. While at Ohio State, she played tennis for the Buckeyes and won the Big Ten Tennis Championships.
After college, she was fortunate to work with her mentor, Bob Gajda, a world-renowned performance trainer and a sports rehab therapist, for 10 years. She also worked with the best athletes in the world, including the Chicago Bears, Chicago Blackhawks, John McEnroe, Jimmy Conners, as well as other distinguished athletes.
In 1995, she started TipTop Training because she knew she could make a difference in today's athletes by mentoring them to be better physically, mentally, and emotionally.
Today, our goal with each person is to train and transform them into a stronger, faster, and injury-free athlete who can perform repeatedly at TipTop levels! TipTop clients include athletes of all ages from various sports, such as baseball, tennis, basketball, football, soccer, lacrosse, and more.
In 2005 to 2008, Mindee directed the strength, conditioning, and speed work of the Northwestern University Tennis and Golf Teams.